You've seen the fruit and vegetable slicing.   You may have also seen the pizza, meat, cherry, bugs and fireworks slicing BUT still, there is one thing missing….  What?
It's missing the hero!
In this adorable, fun, messy, exciting, squishy, and entertaining game you will guide our hero to slice fish for lunch (Disclaimer:  no "real" fish was harm during the making of this app).
THE STORY CONTINUES…
Aaron, the Kid Ninja is continuing his quest to be the Super Ninja.  With Master Wasabi at his side, it is only a matter of time for him to reach his goal.
Let us continue to help Aaron hone his skills and make his goal within his reach!
Master Wasabi: "Aaron, are you hungry?"
Aaron: "Yes, Master!"
Master Wasabi: "Let's catch fish for Sushi and practice at same time [asian accent]"
Aaron: "Alright! [non-asian accent]"
TRAILER AND GAMEPLAY VIDEO
GAME FEATURES
– Slice! Slice! Slice! Can it be any easier? Oh, avoid the slime and bomb.
– Different Power ups
– Multiple Combos
– Cute and adorable fish characters
– Global High Scores: Submit your scores online
– 2 game modes (Sushi-In-A-Minute and Combo Master) and another on the way!
– Achievements (Unlocks backgrounds and slice styles)
– Choose from different backgrounds
– Choose from different slice styles
– Beautiful graphics
– Awesome animations
– Fun for all ages
– Another highly addictive game!

KID NINJA GAMES

"Kid Ninja II – Sushi Slice" is the 2nd series of the Kid Ninja games on the Apple App Store.  The first in the series is "Kid Ninja Training", please try it out — http://itunes.apple.com/us/app/kid-ninja-training/id492096249?mt=8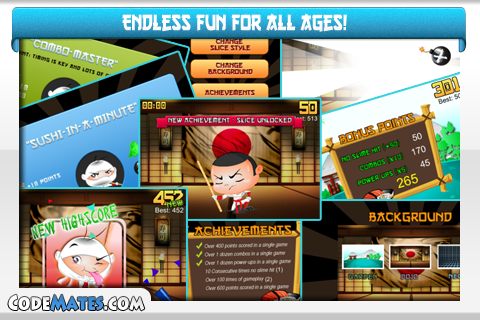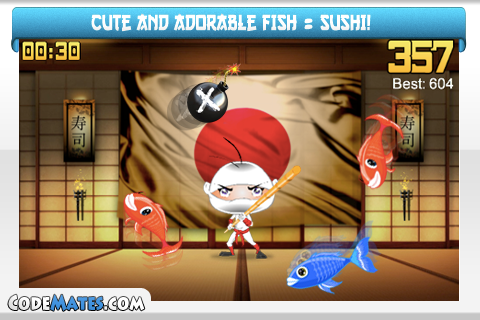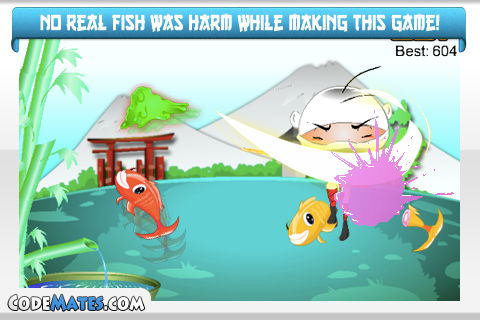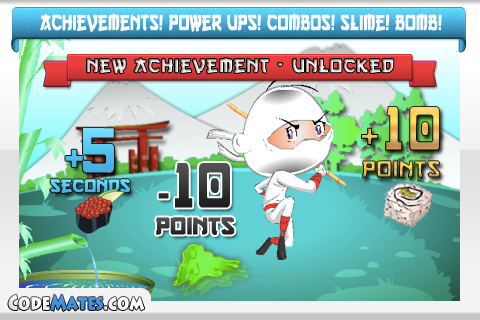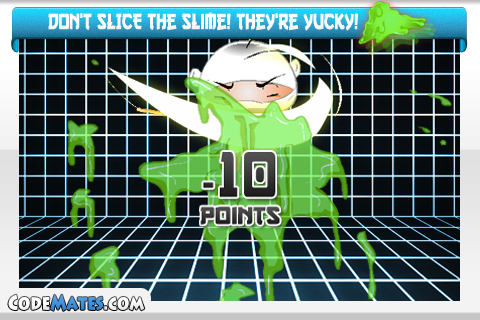 BEST EXPERIENCE
Kid Ninja will run on lower end devices but we highly recommend to play this game on Arm7 devices (iPhone 3GS, iPod Touch 3rd gen) and above for best experience.
FOLLOW US
Facebook (CodeMates.com) – http://www.facebook.com/CodeMatescom/193841403982896
Facebook (Kid Ninja) fan page – http://www.facebook.com/pages/Kid-Ninja/314562448566226
Twitter – http://www.twitter.com/CodeMates_com
MORE APPS FROM CODEMATES.COM
Click here
[button link="http://itunes.apple.com/us/app/kid-ninja-ii-sushi-slice/id469715248?ls=1&mt=8″ color="green"]iPhone Version – Get it now from iTunes[/button]